The GIFT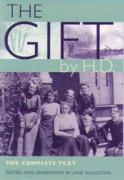 Written in London during the blitz of World War II, The Gift re-creates the peaceful childhood of Hilda Doolittle in Bethlehem, Pennsylvania, where she was born in 1886. As an antidote to war's destructiveness, H.D. invokes the mystical Moravian heritage of her mother's family to convey an ideal world peace and salvation that would come through the spiritual power of women--a power that also endowed her with "the gift" of her own art.
Although H.D.'s androgynous signature first associated her with early 20th-century Imagist poetics, The Gift exemplifies her continuing innovations in prose. She uses the child-voice, flashback, and stream-of-consciousness techniques reminiscent of Virginia Woolf, Gertrude Stein, and Dorothy Richardson, but expands the genre of memoir through free-associative meditations on myth and her lengthy essayistic "Notes" on Moravian history, emphasizing the pioneer missionaries' rapport with Native Americans..
The Gift is key to intertextual studies of H.D.'s wartime oeuvre and to an understanding of the religious and gender concerns pervading her later work, especially the women-centered poems Trilogy and Helen in Egypt. Augustine's introduction and annotations, based on extensive research in Moravian archives, provide a biographical and historical context to make this the definitive edition of The Gift, essential to students and scholars of H.D., modernism, and feminist literature.

 
Editori associati (tassonomia)