Uccelliera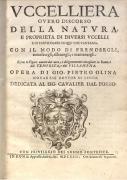 A unique celebration of the beginnings of ornithology, designed to reflect the charm of the seventeenth-century original.
Cassiano dal Pozzo, now celebrated as one of the most important art patrons of the seventeenth century, commissioned a number of exquisite studies of birds as part of his famous 'Paper Museum'. In 1622 the lawyer and ornithologist Giovanni Pietro Olina used these drawings, which are now kept in the Royal Library at Windsor Castle, as the basis for the illustrations in his Uccelliera.
It includes such enchanting insights as the idea that robins suffered from dizziness and that the hoopoe overindulged in grapes until it became 'dazed and half-drunk.' However, it also includes much fascinating early natural history and ornithological observation – as well as the secret recipe for pasta to keep your nightingale happy and encourage it to sing.
Author
Giovanni Pietro Olina
Translations
With the title:
Pasta for Nightingales
Editori associati (tassonomia)