Mémoires d'un géant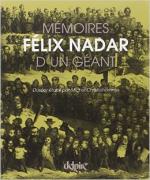 The book, edited by Michel Christolhomme, sociologist and historian of photography who has been involved in social photography for years, accompanies the different phases of the photographer's life through a thorough path made of images (over one hundred) and a reasoned choice of his texts in which Nadar talks in the first person. In the book there are also some writings of contemporary friends and intellectuals (Victor Hugo, Jules Verne, Charles Baudelaire among others).
Gaspard-Félix Tournachon, aka Nadar, was not only one of the greatest personalities in the history of photography, but also one of the pioneers of this art. He became famous for his gallery of portraits of great intellectuals of the nineteenth century - George Sand, Sarah Bernhardt, Victor Hugo, Charles Baudelaire, Gautier, Gustave Doré and many others - he was the inventor of multiple photographic techniques, and was the first to make aerial and underground photographs. But often his fame as a photographer has obscured the fact that he was also a talented caricaturist, journalist, literary man, a protagonist of his time and of the contemporary art world (it was in his studio in Boulevard des Capucines, Paris, where took place the first collective exhibition of the Impressionists in April 1874).
Nadar wrote so much of his adventures with the balloon as about his photographer job. He was a prolific personality in many fields: as a journalist he published hundreds of articles; as a caricaturist he has made thousands of drawings (about two hundred and fifty of the Panthéon Nadar represent a work in itself); as a photographer he was the author of thousands of shots; as a man of letters, he left a dozen works. Perhaps Nadar has not really excelled in all these fields and would be relegated to the background if it were not for his photographic work. But if he had not traveled also the other roads, he would not have become the brilliant photographer he was.
The text offers the portrait of an exceptional and adventurous man and artist, of insatiable curiosity and ingenious inventiveness. And beyond its human journey, the book gives us back a real testament to the intellectual, artistic and cultural life of nineteenth-century France.
Translations
With the title:
Felix Nadar. Una vita da gigante