A History of Reading and Writing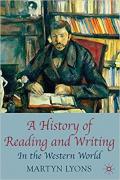 In the Western World
Martyn Lyons surveys the changing relationships enjoyed by men and women with the written word, from early times to the present day. He provides a highly-readable account of the social history of reading and writing, relating it to key historical moments such as the Renaissance, the Reformation and the Enlightenment.
Offering a fresh history centred on the reactions and experiences of ordinary readers and writers, Lyons deals with key turning points that occurred throughout the centuries, such as the invention of the codex, the transition from scribal to print culture, the reading revolution and the industrialisation of the book.
Tracing the major historical developments across Europe and North America which revolutionised our relationship with texts, this book provides an engaging and invaluable overview of the history of scribal and print culture.
Translations
With the title:
Storia della lettura e della scrittura nel mondo occidentale
Editori associati (tassonomia)