Les écarts du cinéma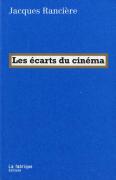 Cinema exists perhaps only as a system of differences between things that have the same name without being members of the same body. This is the physical place of the performance of the shadows. It's also the name of an art built by the cinephile passion that blurred the boundaries between art and entertainment. It was for a long time the utopia of the writing of the movement, able to blend the work, the art object and the collective life. Sometimes it is still the dream always disappointed of the language of images.
Jacques Rancière discusses some examples of these differences: cinema derives from the literature his stories, removing its images and its philosophy. It dismisses the theater at the price of realizing the dream. It etrusts the passage of the emotion of the stories to the pure pleasure of the performance or exacerbates the bodies to show us the thinking at work. It exhibites at the same time all the political capacity and its power to transform the events in fireworks or in shapes that dissipates themselves as circles on the water surface.

Jacques Rancière (Algiers, 1940), French philosopher, is professor emeritus at the University of Paris-VIII. He mainly dedicated his work to research on the Utopians, the first proletarian movements, equality and democracy and the revolution in art and literature.

 
Translations
With the title:
Scarti. Il cinema tra politica e letteratura
Editori associati (tassonomia)