Identically different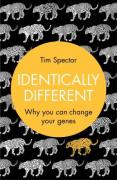 This book is about how minor life events and the choices we make, as well as those made by our ancestors, fuse with our inherited genes to mould us into individuals. What makes you so different to your siblings? Why do you vote a certain way, remain faithful for twenty years, believe in God, love salads, be heterosexual, get cancer or depression, dislike sport or never put on weight? Using fascinating case studies of identical twins, Tim Spector draws gems from his exhaustive research project that has spanned twenty years to show how even real-life 'clones' with the same upbringing turn out in reality to be very different. Based on cutting-edge discoveries that are pushing the frontiers of our knowledge of genetics, he show us that - contrary to recent scientific teaching - nothing is completely hard-wired or pre-ordained.
Challenging, enlightening and entertaining, Tim Spector explains theories such as why the Dutch have become the tallest nation in the world, why autism is more heritable than breast cancer and what could cause a fit and healthy man to have a heart attack within weeks of his overweight, heavy drinking, heavy smoking identical twin. Conceptually, he argues, we are not just skin and bones controlled by our genes but minds and bodies made of plastic. This plastic is dynamic - slowly changing shape and evolving, driven by many processes we still cannot comprehend. Many of the subtle differences between us appear now to be due to chance or fate, but as science rapidly evolves and explains current mysteries we will be able to become more active participants in this human moulding process. Then we can really begin to understand why we are who we are and what makes each of us so unique and quintessentially human.
Tim Spector is Professor of Genetic Epidemiology at King's College London and Hon consultant Physician at Guy's and St Thomas' Hospital. He set up the Twins UK register in 1993, the largest of its kind in the world, which he continues to direct. He has won several academic awards and published over 500 academic papers. He has appeared in numerous TV documentaries and is often consulted in British and international media on his team's cutting-edge research.
Translations
With the title:
Uguali ma diversi
Editori associati (tassonomia)