Les Espaces de communication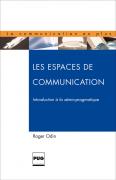 For 30 years Roger Odin processed a model of media analysis he describes as "semiopragmatic", that is linked to textual aspects as well as to the contextual conditions of use. This book summarizes that model and updates it under the light of the most recent research developments. The result is a rigorous, agile and rich in examples work; a needful guide for anyone interested in facing with updated tools the analysis of audiovisual contemporary media. 
Roger Odin is professor of Communication Sciences at Paris University. 
Translations
With the title:
Gli Spazi di comunicazione
Editori associati (tassonomia)