Changes for Democracy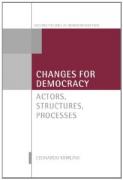 In this major new work, based on an unprecedented range of empirical and theoretical reflection, the author presents a broad-ranging and far-reaching analysis of the mechanisms and processes of democratization. Having reviewed the main theoretical positions in the literature, he goes on to discuss the key features required of a new definition of democracy and to highlight and discuss the existence of a new type of regime: the hybrid regime. The second and third parts of the book cover three geopolitical areas (Southern Europe,
Eastern Europe, and Latin America) and examine the main issues in the process of democratization across each area, including the transition toward democracy, installation, consolidation and crisis. From this analysis a new, more nuanced theoretical position is developed and presented. The analysis provides the richest reflection yet on one of the most important political processes of the modern times. The book will be essential reading for all scholars and students of democratization.

 
Translations
With the title:
Democrazia e mutamenti
Editori associati (tassonomia)