Piero della Francesca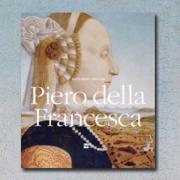 In recent years, the researches on the painting and theoretical work of Piero have been intensified, touching specific aspects, even technical. Less studies have been dedicated to the entire production of the great master.
Precisely in this sense the monograph by Alessandro Angelini intends to examine a figure really central to the Italian and European art of the early Renaissance. The book presents the path of Piero from the years of training to those of maturity, placing in continuous relationship the painter's works with those of contemporary artists he was able to get in touch: from Domenico Veneziano, his true master, to Leon Battista Alberti, to the Flemish painters and the great Florentine sculptors.
The activity and the works of Piero della Francesca are also historically contextualized into the cities and courts where the artist was able to work, rebuilding a framework of patronage in Italy in the ancient states.
 
Author
Alessandro Angelini
Translations
With the title:
Piero della Francesca
Editori associati (tassonomia)