Gerusalemme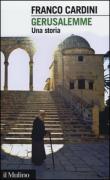 This is not a city, this is the life of each of us, that sometimes deceive us and sometimes brings us to despair, sometimes it seems unreal, sometimes useless. Our interior adventure, our eternal journey, our true crusade, is the conquest of a meaning in life. This is the Jerusalem that we need, to which we aspire.
The destination of pilgrims from all over the world, the center of a millennial dispute, Jerusalem is the holy city for the three great monotheistic faiths. As a connoisseur, and especially as a lover of the city, Franco Cardini takes us on a walk that will serve as an encouragement to those who have only one day to see it or who came to spend there a lifetime. And for us unravels the thread of history - from the path of Christ towards the Golgotha to the Jaffa Gate and the Holy Sepulchre, from the Valley of Josaphat to the Mount of Olives, from the Western Wall to the discos of today - aligning events and images of yesterday and today, in search of the spirit of what remains a city-mystery.
Franco Cardini teaches Medieval History at the Italian Institute of Human Sciences in Florence; he is Directeur d'Etudes at the École des Hautes Etudes en Sciences Sociales in Paris and Fellow of Harvard University.
Translations
With the title:
Jeruzalém